So, I wasn't quite sure how to write this post. Should I get right to the point, or should I do some kind of teasing build-up? Ah, hell. You all know I have no patience, so...Woooooo-Hooooo! I'm back in the game, bitches. That's right. I'm actually playing Make-Out Quest 2007 for real now.
Just let me start from the git, okay? Here's how it went down. Like I mentioned, K. and I went down to Fort Madison to see our friend C.. What I didn't say, was that her other friend, who I'll just refer to as Mr Awesome, was going to be in town as well.
Here is K. looking adorable at C.'s bar.
I haven't had that much fun since probably in forever. Mr Awesome was so quick and so funny, that K. and I had to actually ask him to stop for a minute, in order to process what he said, double over with laughter, wipe the tears from our eyes and let him dish up some more. I honestly don't think we went five minutes without laughing that night. Needless to say, Mr. Awesome and I hit it off. He was very direct, and open and affectionate and all those things I never thought I'd find in one guy - especially one that insanely funny.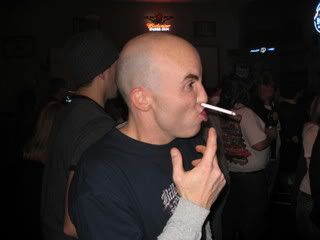 Here is Mr. Awesome exhibiting his mad cigarette holding skillz.
At one point, he was making fun of my laugh, so, of course, I told him that I hated his stinky, fucking, stupid ass, and he said, "Oh my god. I love you. We should go somewhere RIGHT now and make-out." While it sounded like a nice idea, we didn't really do it. later on in the evening he asked me for my number, which I gladly gave him. Then he asked, "So, if I call you, will you go on a date with me?"
"Oh, hell yeah," I responded.
"Then what do you want to do on our first date?" Of course, by that time it was around three in the morning and I was super tired and very distracted by his presence, so I couldn't think of anything. "Be careful," he said. "If you let me decide, I'll make us wear leg warmers and dance around." Which, now that I think of it, would be a great first date.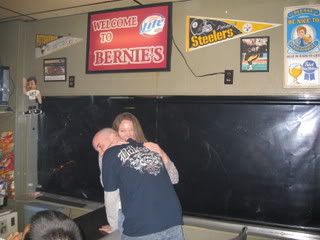 Here is Mr. Awesome oh so subtly expressing his affection for me.
My original plan was to drive back home that night, but the boys were really trying to get us to stay. Finally, after much more talking and, uh, flirting, I told Mr Awesome, "Well, I better leave, before I don't." Hey, so maybe I do have a little self-control. Who knew? K. and I drove the hour and a half home in a fun girl fog. Right before we got back into town K. asked,
"So, did you ask him if he had the other half of your amulet?" Which is kind of what it felt like. You know? Like he probably really does have the missing half of my amulet that we got from our home planet of freaks?
Because I'm old enough to know better, I'm not just assuming this will take. He lives an hour away, he's eight years younger than I am, and even though we could be good together on many different levels, I just don't know him very well. So, at this point, I just figure if he doesn't call me, at least I can say that I spent an amazing evening with Mr. Awesome.