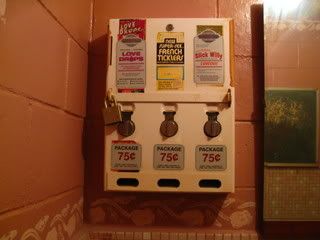 Here is a picture of the condom/lubricant machine in the bathroom of my friend C.'s bar. There should be something there for all of your needs, and a bargain for just 75 cents.
I am so pissed at my computer or blogger or whoever's responsible. I can't upload photos to Blogger the way I normally do. Now, I have to go the Photobucket and make an html code for them and then copy and paste that into my post. It's kind of a pain in the ass, and more importantly, I'm worried that there's some kind of weird virus causing the problem. Wah.
So, tonight I watched the weirdest football game I've ever seen. Since it was on network television, we could go to my friend James' house and watch it in high def on his movie theater sized screen. Normally, that is really awesome. Tonight, it was more of a sloppy mess (that wasn't just the rainy, muddy field) and no one scored even one point until the very end of the game. I was kind of bored and tired with it, but because of my special powers, I was afraid that if I went home and stopped watching, the Steelers would lose, or worse it would go into overtime and ultimately the game would never end. So, I stayed and the Steelers won 3 -0. I think they said that's the 6th game the Dolphins have lost by three points this season. Weird.
For those of you who hate football, and America and apple pie, I'm trying to think of an ending for this post that will interest you...Um, sometimes when I get really tired, I think I see things out of the corner of my eyes, plus as my friend Jo Anne pointed out, being old and tired makes my face look like it did when I was tripping and 19 years old. So, maybe that's why almost no one doses past the age of forty - we can just get all sleep-deprived instead. That's enough...Okay,
too much
bullshit for one blog post. I'll just try and get some sleep, because feeling all sleep-deprived at work is one really bad trip.